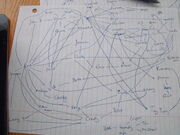 This is a massive picture of how everyone connects, relationships, friendships. Somehow everyone has some connection to everyone else.
THIS IS MAJORLY OLD; I done this way way way way way back before Christmas, I don't remember when. I was bored and I done the map from memory, I didn't remember everyone and I am missing some amazing epic characters like; Thrax/Dead, Ting-Ting and some more. I am so so so so so so so sorry. *Bows a thousand times*
Ad blocker interference detected!
Wikia is a free-to-use site that makes money from advertising. We have a modified experience for viewers using ad blockers

Wikia is not accessible if you've made further modifications. Remove the custom ad blocker rule(s) and the page will load as expected.